Sergio Ramos Action Against Portugal Photo Gallery
This name uses Spanish naming customs; the first or paternal family name is Ramos and the second or maternal family name is García.
Sergio Ramos García (Spanish pronunciation: [ˈseɾxjo ˈramoz ɡaɾˈθi.a]; born 30 March 1986) is a Spanish footballer who plays for Real Madrid and the Spain national football team. Mainly a central defender, he can perform equally as a right back.
After emerging through Sevilla's youth system, he went on to be a defensive mainstay for both Real Madrid and the Spanish national team, gaining his first cap at the age of 18.
Just seven months later, Ramos scored his first two international goals in a 6–0 away thrashing of San Marino for the 2006 FIFA World Cup qualifiers. He was selected for the final stages in Germany and, after the international retirement of Real Madrid teammate Míchel Salgado, became the undisputed first-choice right back.
Throughout Spain's UEFA Euro 2008 qualifying campaign, Ramos was a regular member of the starting eleven as the national side finished first in its group, above Sweden. He scored two goals, including one in a 3–1 away win over Denmark, in 11 appearances.
In the tournament's final stages, Ramos played in all matches and minutes, except the 2–1 group stage win against Greece. In the final, his pass nearly set up Marcos Senna's first international goal, but the latter barely missed it by inches. During the celebrations after the 1–0 defeat of Germany, he wore a T-shirt in honor of close friend and former Sevilla teammate Puerta, who died in August 2007.[14][15]
Ramos was selected in the squad for the 2009 FIFA Confederations Cup in South Africa, as Spain finished in third position. At the 2010 World Cup, held in the same country, he started every game, helping the team keep five clean sheets and reach the final, which they won 1–0 against the Netherlands; he topped the tournament's Castrol Performance Index with a score of 9.79.[16]
Ramos returned to the heart of the defence for the Euro 2012 tournament. When asked about his role change, he replied: "I have adapted and feel comfortable in the middle, but I am a World and European champion at right-back."[17]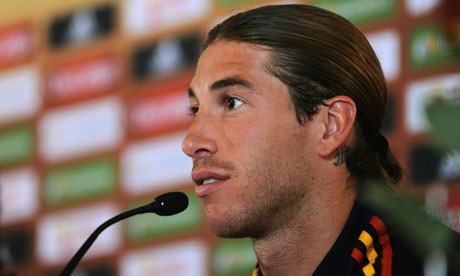 Sergio Ramos Penalty miss vs BAYERN MUNICH- What really happened!
Sergio Ramos Misses Penalty Fail- Mourinho Reaction 2012
Sergio Ramos Penalty - The Aftermath