Let
me tell you straight. I
f Roger Federe
r wins
Wimbledon
it will, at a stroke, end the argument over who is the best player of all time.
He has gone through two lean years since that last Slam win in Australia and when that happens people start to question you. Hey, it's human nature.
Yesterday Federer answered a whole lot of questions - he needs that one more win to answer them all - and he was brilliant. Brilliant, brilliant, brilliant.
He played magnificently from point one. He has the best forehand the game has seen and he used it to perfect effect.
The conditions were in Federer's favour.
The roof being shut works better for the Swiss as there no is wind or sun to interfere with his game. The neutral conditions also suit his one-handed backhand. Federer's all-round game is fantastic.
He is one of the very few to be able to do a little bit of everything. He can play offence, he can play defence, he can switch to neutral, go back or serve and volley. And he thinks too, the guy is a real smart thinker.
Federer did two things against Novak Djokovic. Instead of serving and then volleying he would serve, play a defensive ball and then go in on the volley.
He also looked to push Djokovic out wide on his forehand, out to where the courts are still green and it's more difficult to come back from.
I was surprised how Djokovic's forehand broke down under pressure and he made more errors on his backhand too. That is unusual for a two-handed backhand against a one-handed one.
It was an unusual performance all-round from Djokovic. He hit more defensive returns than you would expect and it seemed like there was a lack of intensity out there. He will be back, no doubt about that but the day belonged to Federer.
- Independent
Roger Federer
Roger Federer
Roger Federer
Roger Federer
Roger Federer
Roger Federer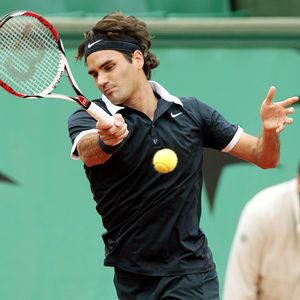 Tennis: Federer slams his doubters | Action Photo Gallery